"Okefenokee Pogo Dog RIP"
Pogo April 2008 – January 26, 2021
In August 2008 my family decided to vacation in a rented home on St Simons Island, Georgia. Having grown up in Waycross, I was very familiar with the island's moss covered trees but my Maryland wife Teresa and Virginia son Ben were not. We checked in after a long 12 hour drive. The following day my mom, who lived in Waycross and father-in-law (FIL), visited us. The house had more than adequate bedroom space for everyone and my hope was that my mom and FIL would grace us with an overnight stay. Alas, that was not to be the case as my mom had cats at home to care for.
During our week long stay we enjoyed traveling around St Simons taking in the view of homes with beautiful moss tree scattered grounds.
My wife had grown up reading a comic strip called "Pogo" which was created by cartoonist Walt Kelly and widely published from 1948-1975. It featured funny animal characters including the title character, which was an opossum whom lived in the Okefenokee Swamp. Late one afternoon, I suggested to my wife that we take a family trip to visit the Okefenokee Swamp in Waycross. She was excited at the possibility of this visit.
The road to get to the swamp visitors center is South 117 off US 1 South of Waycross.
South 117 is a 5 mile stretch of road that is completely uninhabited except for 1 single home that has 4333 not on the mailbox but on a post set on the property.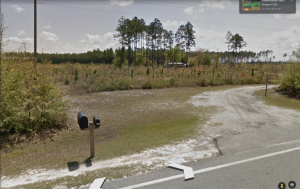 Even today, 12 years later in 2021 there is still only one home on the long lonely road named South 117.
There are a few curves near the entrance of the Okefenokee Park but otherwise the road is very straight and quite desolate.
Driving down this road on a 95 degree summer day all I saw was a small black object squarely right in the middle of the road. I immediately mentioned it to Teresa and asked her to confirm my sighting, which she did. I continued on at speed because the object was quite far away but as we began approaching the object I slowed down my speed. When we were finally upon the object it became clear that it was a mostly black dog with white markings. We pulled over to the side of the road and cautiously called to the dog. He came running over and we gave him some ice cold water from our cooler and fed him a package of cheese peanut butter crackers. He seemed very appreciative for the food and water. We then got back into our SUV and drove to the entrance of the Okefenokee Park, which was closed. We spent a couple of minutes looking at the entrance and then turned around and headed back down South 117 towards Route 1.
The little black dog was still sitting in the middle of the road looking lost and looking for a ride back to his home. Teresa and I decided that we would turn him in as a rescue dog instead of leaving him alone with no food or water in the middle of no where. We lifted him up into the back of the SUV. I though he was limping and that he might have a broken leg so I told Teresa I thought he needed to be examined by a vet. With two Bengal cats at home neither of us was interested in entertaining the adoption of a dog. However, as a joke, when we drove off I said to Teresa "If we keep him, his name will have to be Pogo."
On the way back we stopped at the single home that is visible driving South 117. Teresa went to the door and spoke with the residents to inquire if anyone had reported a missing dog? The last thing we wanted to do was to kidnap another persons pet. The resident of the home told her that several black and white dogs looking like the one we picked up had been tossed out in the area by someone unknown. With that information we headed back to St Simons Island to our rental home. We purchased dog food and a dog bowl on the way to our home and fed the dog upon arrival. The following morning we contacted a local vet and brought the dog in for an examination.
Following the examination, the vet came out and said "congratulations on your new pet dog. He is a Bassadore breed (Basset Hound + Labradore Retriever) approximately 3 months old and is in good health with no injuries except he had eaten a white grub worm for sustenance." The pronouncement that the dog was now ours came as quite a surprise. We looked at each other and did as instructed. We walked out of the vets office with our new pet – a dog. My first thoughts were that this will not sit well with our Bengal cats at home.
Little did we know that our beloved "Pogo" would go on to become a Pet Smart feature cover dog! Our hearts will forever remember and love the dog with the best heart ever.  I often wonder who was breeding Bassadore puppies in Waycross?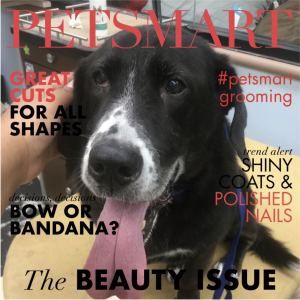 We encourage donations to the Okefenokee Humane Society of Waycross.